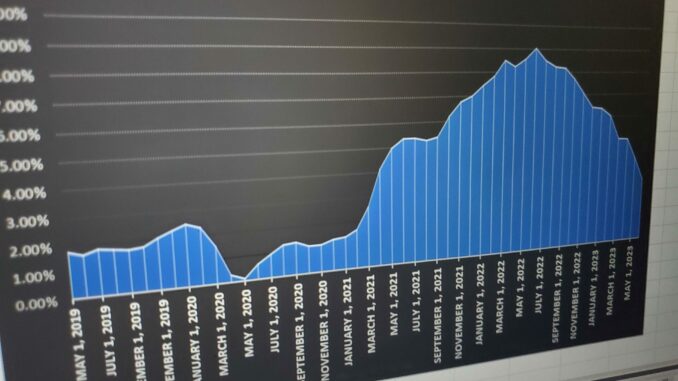 Big question: how's the economy doing?
With the year more than half over and markets on a spree, it's an important question to consider.
Let's dig into the latest data and find out.
Inflation continues its downward spiral.
The latest data for June shows that inflation fell for the 12th month in a row to an annual rate of 3%.1
That's a significant improvement from June of last year when inflation soared to 9.1%.
It also puts the Federal Reserve in the difficult position of deciding whether or not to raise rates again after pausing in June.
The odds are good that the Fed will hike rates again at least once more this year, though if inflation continues to decline, policymakers might choose to hold off.2
The economy continues to shrug off recession worries.
Despite concerns about how rising interest rates could eat away at economic growth, it doesn't look like a recession is imminent.
Obviously, that could change.
However, a July 10 Federal Reserve model projects that the economy grew 2.3% in Q2.3
The job market is still robust, even in sectors sensitive to high interest rates.4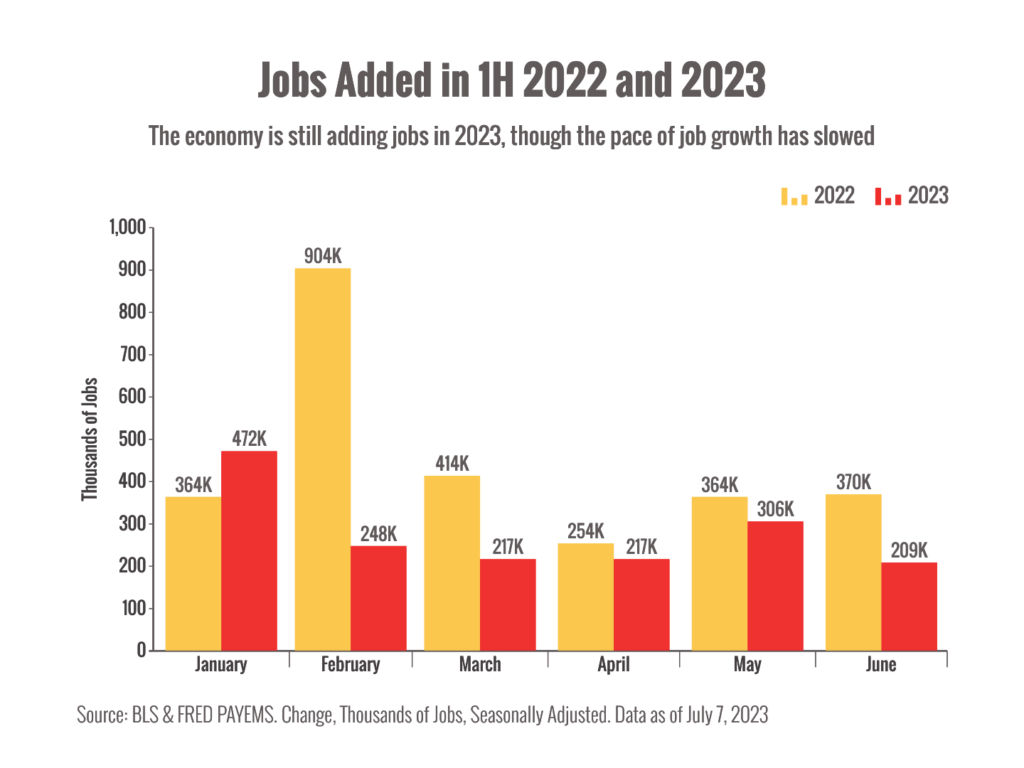 All told, the economy has added 1.67 million jobs in 2023 so far.5
That's significantly less than the 2.67 million jobs added in the first half of 2022 but it shows that the labor market still has legs.
However, job growth may be cooling in the private sector, which could be a warning sign of a slowing economy.6
Market psychology has been trending toward optimism (and greed).7
The stock market generally tends to reflect expectations about the economy and business performance.
While economic data seems to support the optimistic view, markets might be a little overheated.
That means pullbacks and corrections are likely, even if we're already in the early stages of a bull market.
Here's some good news: They happen pretty regularly, as the chart below shows.8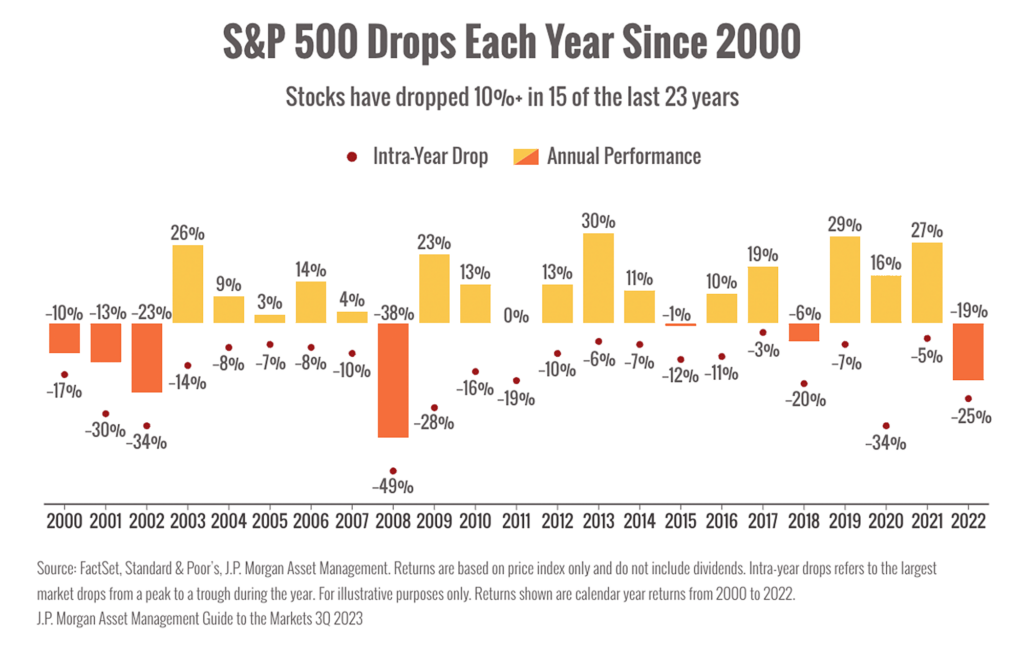 You can see by the red dots that even years with strong market performance experienced some pretty big drops.
That's normal and not a reason to worry.
So, what happens next in markets?
We see the potential for volatility ahead.
While the rally seems to have spread beyond tech stocks, sentiment could easily swing the other way.
Bottom line: We're watching markets, we're reading reports, and we'll be in touch with our clients as needed.
Sources:
1. https://edition.cnn.com/2023/07/12/economy/cpi-inflation-june/index.html
2. https://www.cnbc.com/2023/07/05/fed-minutes-july-2023-.html
3. https://www.atlantafed.org/cqer/research/gdpnow
4. https://www.cnbc.com/2023/07/07/heres-where-the-jobs-are-for-june-2023-in-one-chart.html
5. https://fred.stlouisfed.org/series/PAYEMS
6. https://finance.yahoo.com/news/hidden-recession-red-flag-hidden-100000573.html
7. https://edition.cnn.com/markets/fear-and-greed
8. https://am.jpmorgan.com/content/dam/jpm-am-aem/global/en/insights/market-insights/guide-to-the-markets/mi-guide-to-the-markets-us.pdf