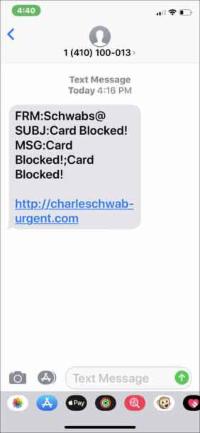 There's been an increase in phishing attempts initiated via text or SMS messages, referred to as smishing. In the smishing scam, individuals receive fraudulent text or SMS messages that appear to be from a legitimate source such as Schwab or another financial provider. The fraudulent text attempts to lure individuals to provide their account credentials. In the sample below, the individual is led to believe that their card has been blocked and includes a link to take action. The link directs to a fake website requesting they enter their account credentials, which fraudsters can then use to gain access to their funds. 
These communications are not from Schwab. Schwab is diligently working to have all linked websites shut down immediately.
Helpful Tips

Be cautious when responding to texts or emails from unknown sources, including clicking attachments and links.
If you receive a fraudulent text, you may safely ignore and delete the message if you have NOT acted on the text.

If you have clicked on the hyperlink and supplied credentials, you should immediately change your log in and password for your email account and financial provider. 
You should go directly to the financial provider's website or use an authorized mobile app, when accessing your accounts.
Confirm that you are accessing a secure website. Secure websites begin with "https", not "http" and are denoted with a padlock icon in the address bar.