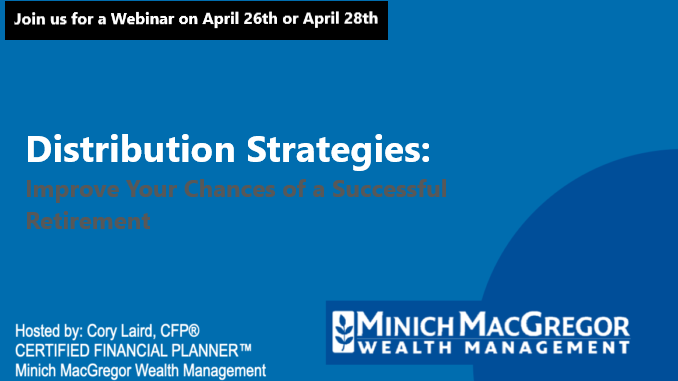 Please join us for our Distribution Strategies Webinar:
---
Strategies to Help Improve Your Chances of a Successful Retirement
---
Learn the answers to your questions:
I'm retiring – which accounts should I use to supplement my income?
What are some ways to be more tax efficient in retirement?
Should I make all of my accounts more conservative as I get closer to retirement?
At this webinar you will learn:
Distribution strategies to be more tax efficient
The ins and outs of the Bucket Strategy
Ways to improve your retirement success
Monday, April 26th at 5:00 PM (Register Here)
​​​​​Wednesday, April 28th at 12:00 PM (Register Here)

Webinar presented by Cory Laird CERTIFIED FINANCIAL PLANNER™
Register with Zoom Webinar by clicking the links above
Zoom Webinar, Registration is Required for Cyber-Security
After registering, you will receive a confirmation email containing information about joining the webinar.
If you have any questions, please email Cory Laird at Cory@mmwealth.com.
Minich MacGregor Wealth Management
(518) 499-4565