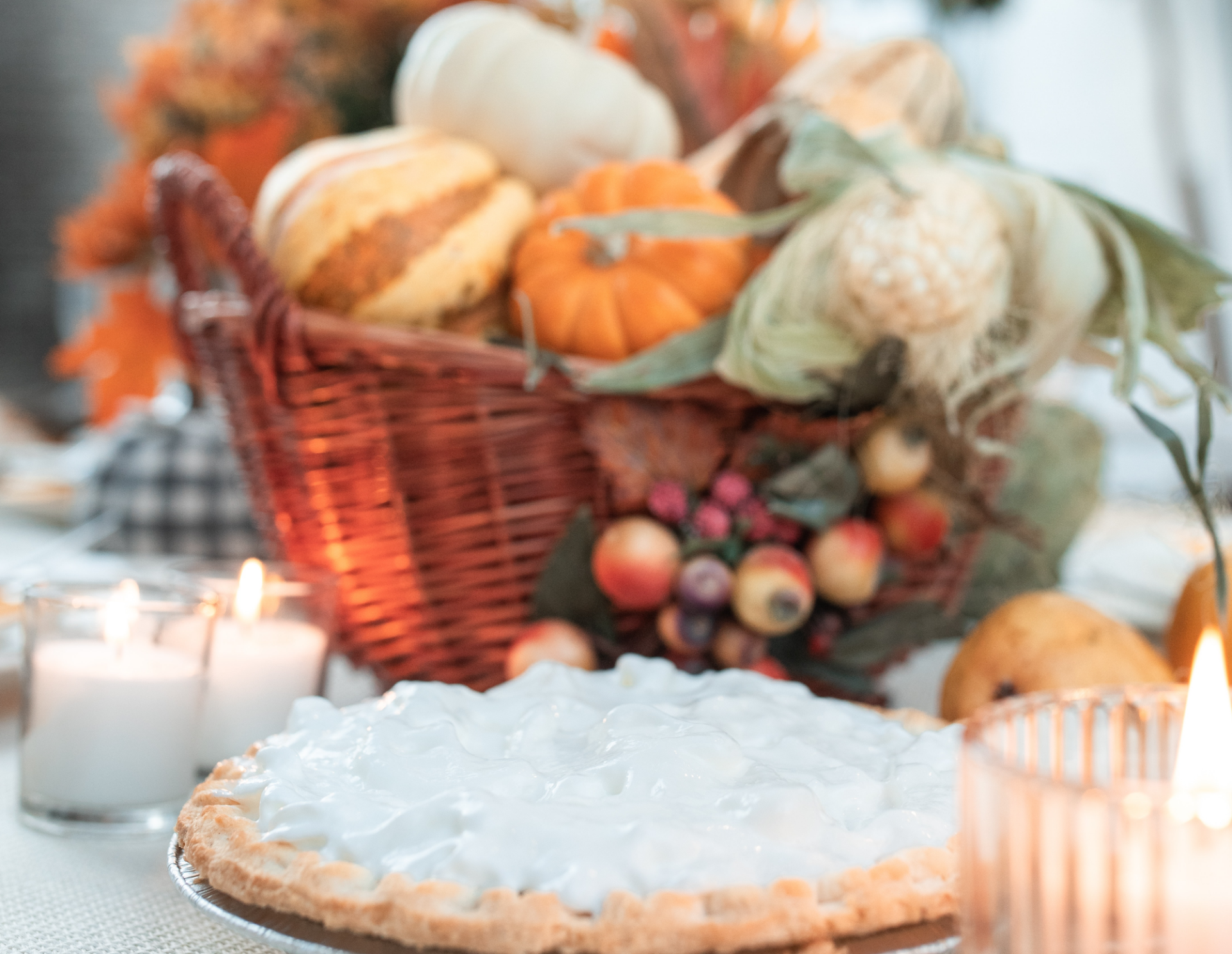 Pop quiz: What do Thanksgiving and Mary Had a Little Lamb have in common?
Answer: They were both created by the same person!
Okay, so maybe Sarah Josepha Hale – author of the beloved nursery rhyme – didn't create Thanksgiving, but she can take credit for turning it into a national holiday. That's why she is often referred to as "The Mother of Thanksgiving."
Sarah was born in New Hampshire in 1788. From an early age, she had two loves. First, she loved to read. Largely self-educated, Sarah consumed every book she could find. So, it's no surprise that she soon tried her hand at writing books instead of just reading them. One of those books was called Poems for Our Children, and it introduced the world to a little girl named Mary, and her lamb "with fleece as white as snow."
A few years earlier, Sarah also wrote a novel called Northwood. In it, she introduced America to her other great love: Thanksgiving.
"The table…was now intended for the whole household, every child having a seat…and the more the better, it being considered an honor for a man to sit down to his Thanksgiving dinner surrounded by a large family. The roasted turkey took precedence, being placed at the head of the table…[with] innumerable bowls of gravy and plates of vegetables…pumpkin pie, an indispensable part of a good and true Yankee Thanksgiving…[It] is considered appropriate to set apart one day of Thanksgiving each year; and autumn is the time when the overflowing garners of America call for this expression of joyful gratitude." – Sarah Hale, Northwood1
Published in 1827, this was one of the first descriptions of a typical New England harvest feast, with details we can all still recognize today. The tradition of such a feast had been around for centuries, of course, but it was uncommon outside of New England. Sarah's dream was to change that.
Ten years later, Sarah became the editor of Godey's Lady Book. This was the most widely read magazine of the 19th century. It effectively put Sarah's name in front of tens of thousands of Americans and elevated her to voice to one of the most influential in the country. (I imagine Sarah would have become a highly successful "influencer" on social media if she lived in our times!) Among other things, Sarah used her platform to call for a National Day of Thanksgiving.
To Sarah, Thanksgiving wasn't merely a local tradition. It was patriotic to celebrate Thanksgiving – and a chance to unite a sorely divided country. In the decades prior to the Civil War, the United States became more and more fractious. Sarah envisioned Thanksgiving as a sort of balm for the nation's wounds. By reflecting together on what they all had to be thankful for – including their country – perhaps Americans could spend more time reflecting on what they had in common instead of what divided them.
"Everything that…quickens the sympathy that makes us feel from the icy North to the sunny South that we are one family, each a member of a great and free Nation, not merely the unit of a remote locality, is worthy of being cherished. We have sought to reawaken and increase this sympathy, believing that the fine filaments of the affections are stronger than laws to keep the Union of our States sacred in the hearts of our people…We believe our Thanksgiving Day, if fixed and perpetuated, will be a great and sanctifying promoter of this national spirit." –Sarah Hale, editorial1
Thanksgiving Day – fixed and perpetuated. The United States was vast, with many states and communities isolated from each other by thousands of miles. Thanksgiving, however, could help close those gaps. That was Sarah's vision, and thanks to her many editorials, her vision started to spread. By 1861, she reported that multiple states now celebrated a "National Feast Day." But Sarah wanted more.
"Would it not be of great advantage, socially, nationally, religiously, to have the DAY of our American Thanksgiving positively settled? Putting aside the sectional feelings and local incidents that might be urged by any single State or isolated Territory that desired to choose its own time, would it not be more noble, more truly American, to become nationally in unity when we offer to God our tribute of joy and gratitude for the blessings of the year?" – Sarah Hale, editorial1
In short, Sarah wanted no less than the President of the United States to declare a national Thanksgiving, observed by every state, every year, on the same day. And she told the President so. In fact, she told multiple presidents! Zachary Taylor got a letter from her but said that Thanksgiving was a matter for each state to decide. She also wrote to presidents Filmore, Pierce, and Buchanan. But when she wrote to Abraham Lincoln, including detailed plans for how the holiday would work, everything changed.
"Sir, permit me to [lay] before you a subject of deep interest to – I trust – the President of our Republic. This subject is to have…our annual Thanksgiving made a National and fixed Union Festival. You may have observed…an increasing interest in our land to have the Thanksgiving held on the same day, in all the States; it now needs National recognition to become permanently an American custom and institution. The purpose of this letter is to entreat [you] to put forth [a] Proclamation, appointing the last Thursday in November as the National Thanksgiving. Thus, by the noble example and action of the President…the permanency of our Great American Festival of Thanksgiving would be forever secured." – Sarah Hale, letter to President Lincoln1
One week later, on October 3, 1863, President Lincoln issued his famous "Thanksgiving Proclamation" to all the United States – laying the foundation for the holiday we know and love today.
As you know, we live in a politically divided nation today. So, this Thanksgiving, as we reflect on everything, we have to be grateful for, we will remember the Mother of Thanksgiving and her tireless efforts. We will remember that this isn't just a day for eating turkey, or watching football, or even to see family. It's a day to be grateful for our country, too. A patriotic day. A day to promote the "national spirit." A day to remember that we are each a member of a great and free nation.
From everyone at Minich MacGregor Wealth Management, wish you a happy Thanksgiving!
---
Proclamation of Thanksgiving
By the President of the United States of America.
A Proclamation.
The year that is drawing towards its close, has been filled with the blessings of fruitful fields and healthful skies. To these bounties, which are so constantly enjoyed that we are prone to forget the source from which they come, others have been added, which are of so extraordinary a nature, that they cannot fail to penetrate and soften even the heart which is habitually insensible to the ever-watchful providence of Almighty God. In the midst of a civil war of unequaled magnitude and severity, which has sometimes seemed to foreign States to invite and to provoke their aggression, peace has been preserved with all nations, order has been maintained, the laws have been respected and obeyed, and harmony has prevailed everywhere except in the theatre of military conflict; while that theatre has been greatly contracted by the advancing armies and navies of the Union. Needful diversions of wealth and of strength from the fields of peaceful industry to the national defense, have not arrested the plough, the shuttle or the ship; the axe has enlarged the borders of our settlements, and the mines, as well of iron and coal as of the precious metals, have yielded even more abundantly than heretofore. Population has steadily increased, notwithstanding the waste that has been made in the camp, the siege and the battlefield; and the country, rejoicing in the consciousness of augmented strength and vigor, is permitted to expect continuance of years with large increase of freedom.
No human counsel hath devised nor hath any mortal hand worked out these great things. They are the gracious gifts of the Most High God, who, while dealing with us in anger for our sins, hath nevertheless remembered mercy. It has seemed to me fit and proper that they should be solemnly, reverently and gratefully acknowledged as with one heart and one voice by the whole American People. I do therefore invite my fellow citizens in every part of the United States, and also those who are at sea and those who are sojourning in foreign lands, to set apart and observe the last Thursday of November next, as a day of Thanksgiving and Praise to our beneficent Father who dwelleth in the Heavens. And I recommend to them that while offering up the ascriptions justly due to Him for such singular deliverances and blessings, they do also, with humble penitence for our national perverseness and disobedience, commend to His tender care all those who have become widows, orphans, mourners or sufferers in the lamentable civil strife in which we are unavoidably engaged, and fervently implore the interposition of the Almighty Hand to heal the wounds of the nation and to restore it as soon as may be consistent with the Divine purposes to the full enjoyment of peace, harmony, tranquility and Union.
In testimony whereof, I have hereunto set my hand and caused the Seal of the United States to be affixed.
Done at the City of Washington, this Third day of October, in the year of our Lord one thousand eight hundred and sixty-three, and of the Independence of the United States the Eighty-eighth.
By the President: Abraham Lincoln
---
1 Peggy Baker, "The Godmother of Thanksgiving," Pilgrim Hall Museum, https://pilgrimhall.org/pdf/Godmother_of_Thanksgiving.pdf