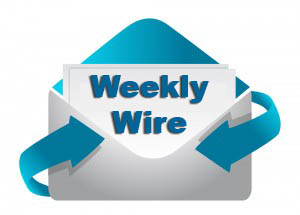 Resolution #4: Decide where you want to live after retirement.
Over the past few months, different retirement-related "resolutions" have been the topic of several Weekly Wires.
This Weekly Wire's resolution is a no-brainer … but we're often surprised how many pre- retirees fail to think about it ahead of time.
Traditionally, most retirees have one or two vague ideas about where they're going to live after retirement.
Option #1: Stay where you are.
If you've lived in the same home for ten, twenty, thirty years, why not just stay put? You know which pizza places are open past nine o' clock, and the quickest route to the grocery store. More importantly, you've got a lifetime of memories stored up in that house, and if walls could talk …
On the other hand, maybe you don't like the climate and long for a change. Maybe you live farther away from your grandkids than you would like. Maybe you don't like the recent spate of changes you've seen in your community. All these potential cons are important, especially as you get older. If you don't start planning how to deal with them now, you may never have the chance again.
Option #2: Go and live near a beach.
Ah, the classic image of the happy retiree: strolling hand-in-hand with your significant other on
some magnificent beach, preferably at sunset. It sounds idyllic, and for many people, it is.
On the other hand, all the classic retirement hotspots often come with an extremely high cost of living. Not to mention that sometimes "warm and sunny" really means "hot and humid." And is it really worth it if you're moving even farther away from the people you love?
"Location, location, location" isn't just a cliché. It's a critical decision you must make while planning for retirement. That's because it's a decision that impacts every facet of your retirement. How you spend your time and how comfortable and happy you are. And of course, how it will affect your retirement savings.
So your next resolution should be to stop daydreaming about the beach for a moment. Alternatively, stop assuming you'll just stay where you are. Instead, take a hard look at where you'll live by asking yourself the following questions:
Do you like the climate of the city where you live now or are planning to move to? Very few people want to shovel snow during their golden years, but you may not want to live in an area with high temperatures and humidity either.
What is the cost-of-living and the property-tax rate in your area, or the area you've always dreamed of retiring to? Many a retirement has been ruined by not considering everything that can impact spending. Moving to an area with a lower cost-of-living can be an easy way to get some extra mileage out of your retirement income.
Are the housing prices within your budget? Unfortunately, not all of us can retire in the Hamptons.
Is there good health care within a reasonable distance? This is a concern that grows with time. It might not seem like a big issue at 65, but by the time you get to 75 it could change everything.
What is the crime rate in your present location? How common is financial fraud and identity theft? Alternatively, answer those same questions for that beachside community you've been thinking about. Not only can the answers impact your quality of life, they are an ever-increasing problem for seniors.
Does your location offer the activities you enjoy? If you like the beach you may not want to be in the mountains, or vice versa.
Most importantly, do you want to be closer to the people you love? If so, does that mean moving … or staying put?
There are plenty of other factors to consider when deciding where to live. The goal of this article is to get you thinking about the issue—because there's a lot to think about! Also, keep in mind that this issue is one area where the help of a retirement planning expert can really come in handy. So, as you ponder this and other retirement questions you might have, always remember that we're here to help. Please feel free to call us anytime at Minich MacGregor if there's ever anything we can do for you.