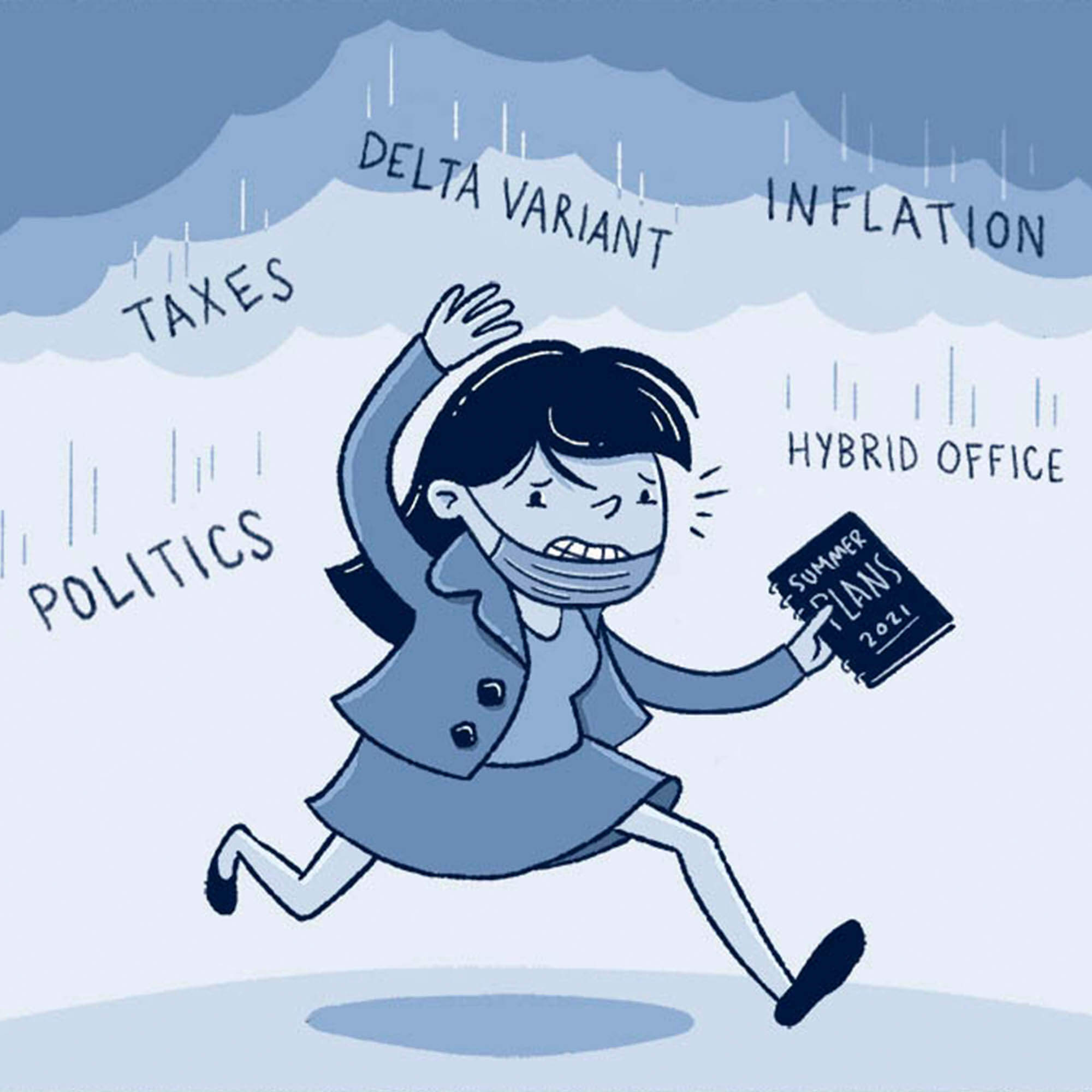 There's a lot going on in the world right now.
We thought this message was going to be about the $3.5 trillion budget deal or what to do with any child tax credits that may be heading your way.
But then global markets jolted on fears of new viral variants.
Is the sky actually falling?
Could a big correction happen?
After hitting record highs in previous days, markets tumbled Monday, sending the Dow 700+ points lower.1
Why?
Mostly fears of a COVID-19 resurgence caused by the delta variant that could derail the economic recovery.
Case numbers are rising globally, even in countries with high vaccination rates, and the surge could lead to a return to travel restrictions and business closures.2
Could these market jitters cause a 10%+ correction?
Absolutely.
Should we panic and freak out?
Definitely not.
Here are a couple of reasons why:
Summer months can bring higher volatility, perhaps because of lower trading volume, making bad news shake the market harder.3
We've had a pretty long winning streak, and corrections are part and parcel of a healthy market, especially when we're near all-time highs.
New variants and higher case counts are a threat. However, vaccination rates are continuing to rise, and experts don't think that we'll see the devastating health outcomes we saw last year.4
Could the delta variant cause the economy to slow down?
It's hard to say at this point. The rosy projections about the economy have been based on a swift return to normal from the shortest recession in history.5
If surging case counts cause a resumption of business and travel limits, we could definitely see a hit, especially in recovery-dependent industries like airlines, cruises, and hotels.
Supply chain issues are still causing materials shortages, creating delivery delays of goods, and potentially triggering slowdowns in industries such as building and construction.6
However, consumer spending is still very strong and the economy is in way better shape than it was last year.7
Bottom line: we could see some economic complications due to the delta variant and we're likely to see more market volatility ahead, especially if economic data disappoints.
We're keeping an eagle eye on the trends and will be adjusting strategies for our clients if we feel they need to be changed.
Have questions? Please reach out. We're always here to help.
---
P.S. A massive $3.5 trillion budget deal is working its way through Congress.8 It's got a lot of moving parts that may affect taxes, Medicare, and much more. We'll reach out when we know more about how it's likely to shake out.
1https://www.cnbc.com/2021/07/18/stock-market-futures-open-to-close-news.html
2https://www.reuters.com/business/healthcare-pharmaceuticals/delta-covid-variant-now-dominant-worldwide-drives-surge-us-deaths-officials-2021-07-16/
3https://www.nasdaq.com/articles/volatility-gauge-suggests-tactical-trading-during-summer-doldrums-2021-07-19
4https://www.nature.com/articles/d41586-021-01696-3
5https://www.cnbc.com/2021/07/19/its-official-the-covid-recession-lasted-just-two-months-the-shortest-in-us-history.html
6https://www.washingtonpost.com/us-policy/2021/07/20/biden-delta-coronavirus-economy/
7https://www.reuters.com/business/finance/us-retail-sales-unexpectedly-rise-june-2021-07-16/
8https://www.cnbc.com/2021/07/14/democrats-3point5-trillion-budget-package-funds-family-programs-clean-energy-medicare-expansion.html