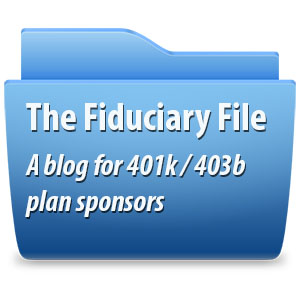 401k sponsors – survey shows you might be missing the boat.
A recent survey conducted by TD Ameritrade found 401k sponsors that utilize the services of a RIA are more likely to hold their fiduciary duties to a higher standard.  The survey findings indicate RIAs are more likely than brokers to provide services such as participant level advice, fiduciary support and plan sponsor education for retirement plans.
The National Association of Plan Advisors published an article earlier this month that gives some perspective on the TD Ameritrade survey.  One notable item is the fact that there has been a considerable increase in the number of plans that use the services of a RIA however more than 75% of the plans surveyed were not using a RIA as the plan advisor. 
If you offer a 401k plan to your employees, this article is worth a read.  It may be time to think differently when it comes to the advice you are getting, or not getting, on your plan.
Here is the link: http://www.napa-net.org/news/managing-a-practice/industry-trends-and-research/how-rias-are-different/